Your Itinerary
Day 1 - Windhoek Namibia
---
Upon your arrival at Windhoek International Airport, you will be picked up by a driver who will transfer you to your Hotel in Windhoek where you will meet the rest of the group and check in to your room. We will have a welcome to Africa meet & greet dinner later that evening. You will also be handed over your vehicle and be given a quick once over sometime that day.
Short info about Windhoek : Windhoek is the capital of Namibia, in the country`s central highlands. Surrounded by the stubble-covered Auas Mountains and the endless Khomas Hochland, Windhoek lies ina long valley fed by ancient hot springs in the central highlands of Namibia. There are many useful words to describe Windhoek and, as your most likely point of arrival and departure ,all those words will sing like a rufous-tailed palm thrush at the break of dawn:small,clean,safe, convenient, modern,interesting,warm.More words exist but we`ll let you make them up after your visit In Windhoek there are many interesting historical buildings,museums, galleries and craft shops.The city has several good restaurants and modern shops and services, making it excelent base camp which to launch our adventure. If you are the museum-visiting type,then don`t miss the Owela Museum, Alte Feste Museum, the Geology Museum and the Transport Museum Interesting historical buildings to tick off your list are the Clock Tower,Elephant Column , The War Memorial, Christus Kirche, Alte Feste and the Ink Palace ( Parliament ) Galleries Featuring Namibian art and craft include the Bushman Art Shop and Museum and the National Art Gallery of Namibia. There are also street markets where local artists sell their crafts, fabrics and art. Other interesting feutures : National Botanical Garden, Meteorite Fountain, National Theatre of Nambia and the Warehouse Theatre.
---
Day 2 - Sossusvlei 350Kms
---
Today the fun begins as we leave the the city life behind us and head towards the infamous sea of sand... but not before a quick pit stop at a local supermarket for some supplies for our trip such as water, snacks etc and exhange money in the bank if you haven`t already done so at the airport upon your arrival Our journey today will take us via the Remhoogte or Spreetshoogte Pass, both beautiful areas showcasing the naturel beauty of Namibia..with many view poits along the way, we will be be sure to stop and get some stunning pictures of this beutiful landscape..We will also be leaving behind the tar roads to gravel packed roads We will continue on to our amazing lodge we have picked for you for the night in Sossusvlei On arrival check in and then enjoy the afternoon at leisure, an activity offered by our luxury lodge or simply sit back ,relax and take it all in As the sun sets, take in the view with a sundowner and get ready for our dinner
Our lodge is situated 21 kms from the Sesriem gates which leads to Sossusvlei where you can find the highest Dunes in the world, like the famous Dune45 The lodge also offers: ( not included ) *Hot Air Balloon ride *Guided Nature Drive in safari vehicles *Quad-Bike tour
---
Day 3 - Sossusvlei 0 Kms
---
After our early morning breakfast we will head to the Namib Naukluft Park gate at Sesriem in time when it opens at sunrise. After paying the entry fee ( which is just under $10US ) we will drive west to the beautiful Sossusvlei area where most of the morning will be spent on dune climbing, photography and a visit to the world famous Dead Pan!
Star Dunes rise up to 300m into the air and rank among the biggest in the world;the dune valleys are marked by vast clay pans where the Tsauchab River gave up its fight to reach the sea. More than 60,000 years ago, the encoaching dunes stopped the ephemeral river from reaching the sea with over 50kms to go Besides the dunes and the pans of Sossusvlei and Sesriem Canyon, a sildeshow of activities and sights has developed around the region and there are plenty of game lodges that provide additional adapted activities. Plants and birds are the dominant life form in this desiccated realm and they support a tiny world of mamals, reptiles and insects that, in the absence of coastal fog,seldom wander far from the river-course and its pamns This is a photographer`s haven especially in the morning light when the shadows magnify the sharp edges of the dunes, the red Namib sands shine and the area is just so beautiful. The dead pan is also one of the most beautiful places to visit, a short hike from one of the parking areas. For the adventurous and fit, climb one the biggest dune sin in the world, Big Daddy or aka Dune 45! To protect the fragile wilderness, only day trips are allowed into Sossusvlei. You can drive the 60Kms road lined with enormous iron-oxide dunes, precious gemsbok and grarled acacia to within a few kms of the pans and dunes in a 4X4 If you don`t fancy the extra hike you can get to within a short walk from the pans in your vehicle and some judicious sand track manoeuvres ( **no kidding here ); or you can use the shuttle service for a small fee. Back to our lodge, the afternoon is free to relax and explore the area or do one of the activities offered by the lodge on your own
---
Day 4 - Swakopmund 350 Kms
---
This morning right after breakfast we will head out and a drive north and then west which wil take us through the gradual change from mountains and dunes to rolling grass-covered hills scattered acacia trees to Swakopmund, a quaint resort town by the Atlantic Ocean with obvious German heritage at odds with it`s bleak surroundings. Look out for the endemic Hartmann`s mountain zebra as we leave Sossusvlei , about 80Kms from Sesriem we will stop at the most famous store, gas station & bakery in the region called " Solitaire " for a bite to eat or grab some freshly baked goods. Solitaire is a small settlement in the Khomas Region of central Namibia near the Namib Naukluft National Park. It currently features the only gas station, bakery cafe and the only general dealer between the dunes at Sossusvlei and coast at Walvis bay, as well as to the capital Windhoek
Kuiseb Canyon has some shady picnic spots; you can see springbok and pure-bred wild Ostrich across the vast gravel plains of Namib desert which is like a Lunar landscape; don`t forget to look for the most unique Welwitschia plant while there . We may stop for a quick chance to strech our legs in Walvis bay before contunuing on to Swakopmund or we can contunie without stopping at Walvis, which will give us time spend the remainder of the late afternoon at leisure. We will check in to our hotel in the heart of the town for the day and for some free afternoon exploring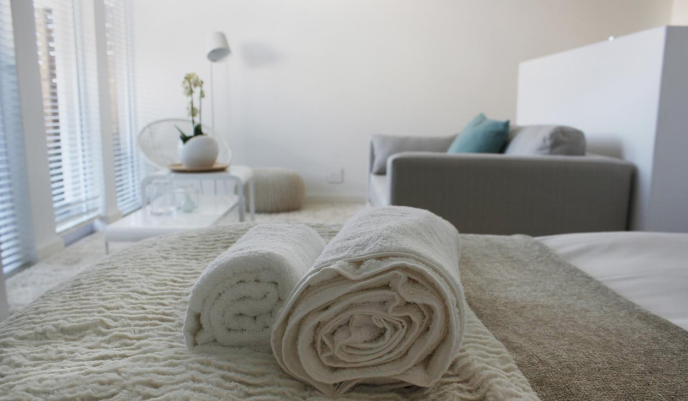 Our dinner reservations will be at a local German pub called Kucki`s on the main strip ( *This dinner is not included in the tour )
---
Day 5 - Swakopmund 0 Kms
---
Rest day. Today is a perfect opurtunity to explore the sea side town of Swakopmund whether it`s shopping or part taking in one of many activities the town has to offer Surrounded by the ancient Namib desert and the inhospitable-but bounteous -Atlantic Ocean, the two towns are alive with activity and adventure Swakopmund has many interesting German-influenced buildings from the early 1900s in a variety of styles: Kaiserliches Bezirksgericht- or State House; Woerman House and Damara Tower; the Alte Bahnhof - a fairtale railway station; the Kaserne; the neo-baroque Lutheran Church; and Haus Hohnezollern- purportedly a brothel in its hey day The Swakopmund Museum has displays of archaeology, ethnology, flora , fauna, history and mining; the Marine Museum has displays of inshore reef marine life; coastal birds and a cross-section of the Benguela Current. Swakopmund and Walvis Bay have alot on offer for the adventure-seeker: Quad-biking, sand-boarding, dune-boarding, horse-riding, mountain biking, skydiving, surfing, surf and offshore fishing, dolphin cruises and diving-altough the water temperature is below friendly. And Rossmund Golf Club is developing into one of the world`s best desert courses. If you are interested book any of the activities listed above, make sure to contact us before departure as we have offices in Swakopmund and can easliy recommend and book an activity for you. Swakopmund has an astonishing array of restaurants that serve mainly seafood, steak and many German staples. Our dinner reservations will be at the Tug Restaurant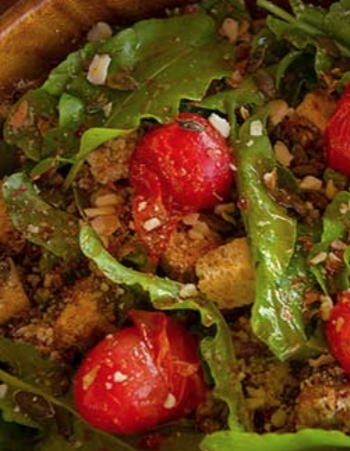 ---
Day 6 - Damaraland 445 Kms
---
Today we will have an early start to our next destination, Damaraland, where enourmous granite outcrops and dolerite dykes have been carved by ice, wind and rain over eons. Grassy plains, tree-studded riverbeds and endless open skies add to the grandeur and make this area one of the most scenic in Namibia. The drive to Damaraland may take up to six hours as there is so much to see and do en-route...Possibly even longer if we stop often to take in the natural beauty along the way. We will look out for the small settlement Wlotzkabaken roughly 30Kms from Swakopmund and the shipwrecks along the way, as we drive along the Skeleton Coast via Henties Bay to Cape Cross to see the largest breeding cape fur seal colony in the world. The strench of 100,000 seals can be tad over-powering so a handkerchief to cover the nose is a must As we have only one night in Damaraland, if time allows we will try to visit some of the highlights in Twyfelfontein before checking in at our amazing lodge Take the rest of the afternoon to relax, put your feet up and take in the beautiful scenery..Perhaps you would like to do an afternoon nature walk as the sun sets and be sure be at the lodge for the sunset drink up in the hills of the lodge before dinner
---
Day 7 - Etosha National Park 325 kms
---
The beginning of our Game viewing also known as Safari`s in Etosha A visit to Etosha National Park is one of the highlights of travelling Namibia. Etosha, which was declared a reserve by the German colonial administrartion back in 1907, covers an area of more than 22 000 sq kms. In its centre lies a vast saltpan surrounded by grass and thorn savanah, Mopani enourmous lake, fed by the Kunene River. However the lake slowly dried up because overtime, the river changed its course. Be it a lion or an elephant, a giraffe or zebra, almost all African species ( except for the Cape Buffalo ) are presentted in this huge game reserve, which is approximately the size of Wales UK. There is an estimated number of 250 lions in the park, 300 rhinos, 2500 giraffes, 6000 zebras and more than 2000 elephants. The dainty springbok are especially numerous; at least 20000 of them roam the reserve, often they can be observed in enormous herds of several hundred animals We have 2 full days and 3 nights are set aside to spend on game drives and game viewing at waterholes in the game reserve. View numerous species of animals drinking at the same waterhole, not often seen in other African parks. We will check in to our lodge for the evening..
---
Day 8 - Okaukuejo Etosha 60 Kms
---
The next couple of days are set aside to enjoy game viewing in Etosha. We will pack up and set off early to maximize our time as we cross the park to our next lodge. We will enter through Anderson Gate and head towards the Okaukuejo Curio Shop where we will purchase our 2 day entry passes and map book of Etosha. Etosha is one of the few places, where some of the best game viewing would be during the heat of the day when the animals congregate at the waterholes to drink. As vegetation in most areas is sparse, the animals have learnt to drink during the day when predators are inactive and it is the safest time to be out in the open. It is not uncommon to see up to 7 different species of game at any waterhole. There are four recommended waterholes for game viewing, Nebrownii, Gemsbok Vlakte, Aus and Okondeka where you can park and watch them come and go for as long as you want. Make sure you have enough drinks, snacks and enjoy!
---
Day 9 - Namutoni Etosha 0 Km
---
Today is at your leisure. You can enjoy our lodge's pool, open-air lapa and dining area provide venues for some pleasant banter, spectacular sunsets and hearty meals. The lounge and dining area overlooks a waterhole for around the clock game viewing. Onguma Private Nature Reserve is a chunk of wilderness that covers 20,000 hectares. Game viewing and birdwatching are excellent and the reserve has over 30 species of plains game as well as lion, cheetah and leopard. A family of black rhino have been introduced and there are more than 300 bird species on record.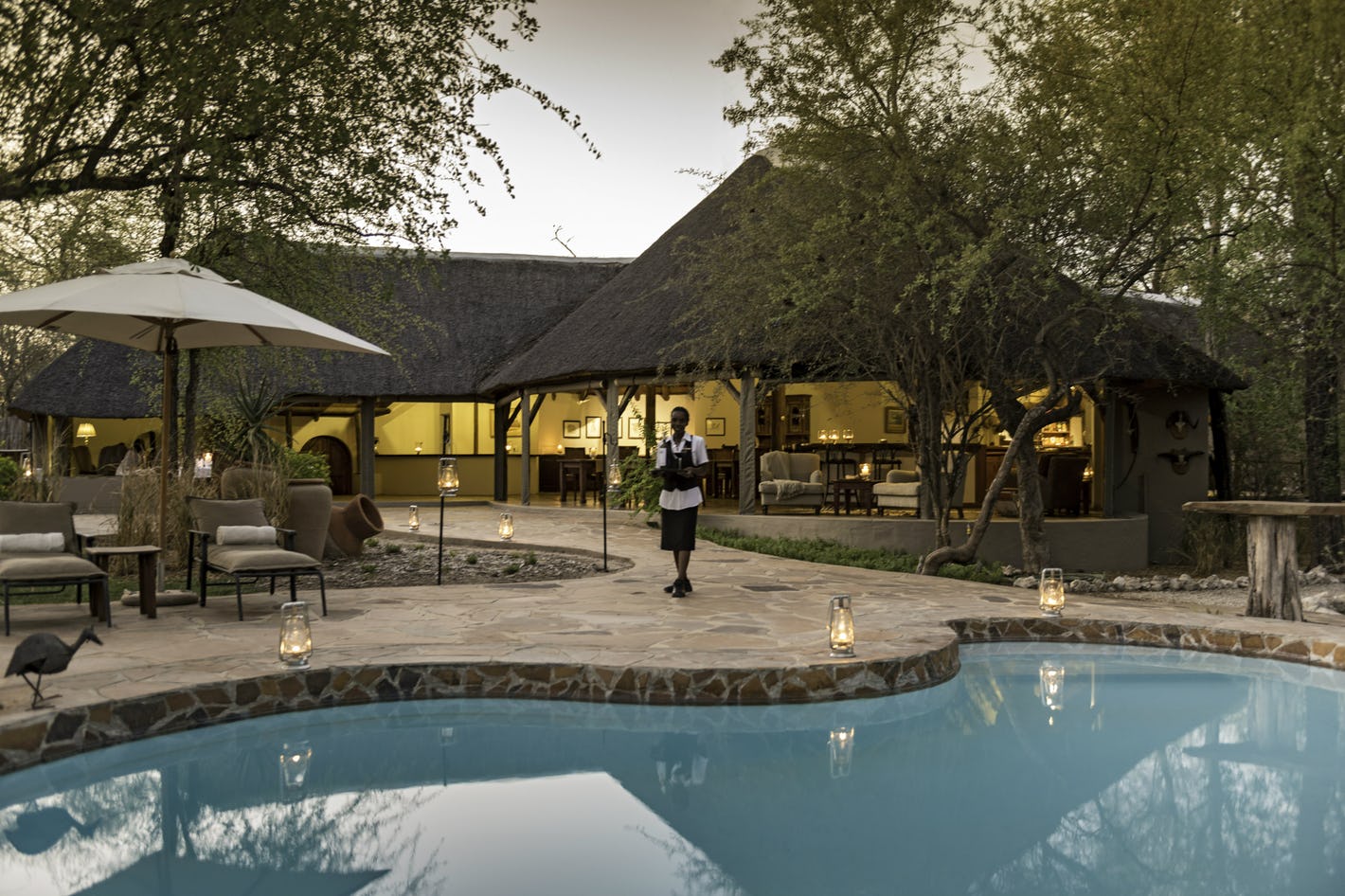 ---
Day 10 - West Caprivi 600 Kms
---
Today is a big day as we have to travel 610 kms to our next lodge in the Caprivi region. We will head woutheast to Grootfontein and north to Rundu, a remote frontier town situated on the banks of the Okavango River where it forms the northern border with Angola. In Rundu we will stop for gas and you will have the opportunity to exchange money in their local bank. From Rundu, we will travel east to the West Caprivi area. We will check into our lodge for the evening.
---
Day 11 - East Caprivi 240 Kms
---
After our long drive yesterday, today we are travelling into the heart of the Kavango Zambezi Trans Frontier conservation area which is part of a large peace initiative. The vast flood plains of the Kavango River spreads out, flowing through natural landscapes and claiming back it's rightful purpose as a life giving source. It is here where you will find our unobtrusive lodge for the evening, nestled high amoungst majestic jackalberry, sausage and knobthorn trees. Our lodge offers guided game drive tours, boat cruises, guided bush walks, cultural village tours, all of which should be booked prior to our arriving.
---
Day 12 - Botswana 140 Kms
---
Today after breakfast, we will drive 130 km to Katima Mulilo where we will be dropping off all our vehicles and we willl be transfered over the border to Botswana where we will be staying the next two nights in Chobe National Park. Botswana game reserves account for the one fifth of the country that is an area the size of Iceland. Chobe National Park is over 10,000 sq kms yet it boasts one of the largest concentrations of plains wild life in Africa. It features the full spectrum of African wildlife and scenery with diverse habitats including Riparian forests along Chobe River, the lush Linyanti wetlands and Savuti with it's mix of marshland and open woodland plains. During our stay in Chobe National Park, you will get to experience both land and river safaris where you will get to see Elephants, Buffalo, Lion, Leopard, Cheetah, Hyena, Wild Dogs, Giraffe, Zebra, Kudu and so on down the high chart to the rare water friendly Red Leche and Puku Antelopes. Another highlight of our location is where you will have the opportunity of visting the unique "Four Corners of Africa". A quadripoint is a point that touches the border of four district territories also know as the Four Corners of Africa. These four countries meet at the eastern end of the Caprivi strip Botswana, Namiba, Zambia and Zimbabwe. There are more than 150 tri points in the world but only 1 International quadripoint. Chobe is near Victoria Falls making the two destinations ideal sight-seeing safari bed fellows on a circut that could include many of the other amazing destinations in Southern Africa.
---
Day 13 - Botswana 0 Kms
---
Today is a free day to enjoy our lodge's amenities and activities.
---
Day 14 - Victoria Falls, Zambia 75 Kms
---
Today we will be transfering to our final destination in Victoria Falls, Livingstone Zambia. After crossing the border into Zambia, we will check into our hotel which is located at the Falls entrance. A gazillion tonnes of water thundering over a sheer cliff drowns all other sounds and the swirling mist hides all sign of human activity. Beyond your rain forest santuary, people are hurling themselves off bridges, across gorges, into walls of raging water and out of aircraft. Victoria Falls is a paradox of tranquile beauty and exciting adventure. Scenic flights over the Falls, dubbed the "Flight of Angels" after Livingstone's famous words, offer a staggering perspective of this mile wide phenomenon. Some of the highlights of this area, we highly recommend are flights over Victoria Falls either by helicopter or ultralight, river rafting in the Zambezi River, the Devil's Pool or the world famous Bungee Jumping off the bridge that lies between Zimbabwe and Zambia. Our final farewell dinner will be at our hotel.
---
Day 15 - Livingstone, Zambia 0 Kms
---
This morning after breakfast, you will check out of your hotel and be transfered to the Livingstone Airport to catch your flight home. For those of you who decided to stay an extra night or two, you will be transfered to your location accordingly. Travel safe and we hope to see you again in the future.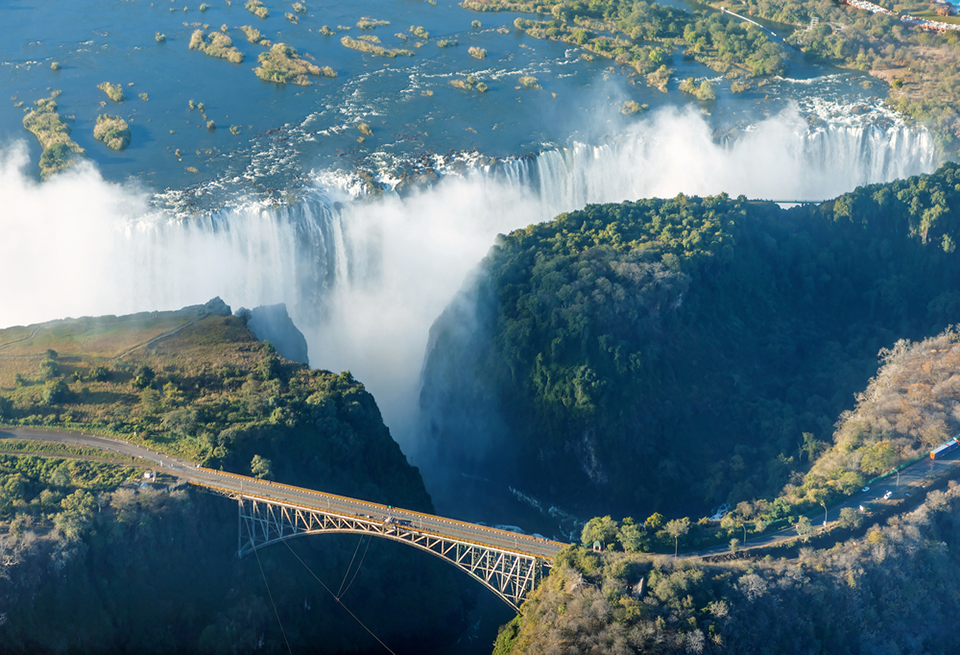 ---
---